Welcome to the Weare Historical Society's Website
The Weare Historical Society's annual meeting, including a potluck supper and entertaining and informative program, is held each October. But don't wait till then to come and say hello.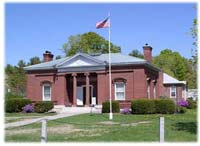 Please visit us at the Stone Memorial Building in Weare Center. The home of Weare Historical Society, it houses Weare artifacts and memorabilia along with items for sale, including 1888 and 1892 maps, reprints of Weare's histories, and several other publications.
Watch the local newspapers and Weare's Channel 6 for open house dates and other scheduled events from March through October (and December when we celebrate the season with Weare Public Library). Come to directors' meetings the third Wednesday of each month at 7 p.m. in the Sawyer Room at Weare Public Library.
For further information about the Society you may email questions to info@wearehistoricalsociety.org (please put Weare Historical Society in the subject line) or write to us at PO Box 33, Weare, NH 03281.
"There are no strangers in Weare-only friends we haven't met." We hope to meet you soon.
Volunteer opportunities:
Become a docent for the Stone Building Museum.
Work on special activities or projects.
Donate an item of historic interest or purchase an item the Society sells.
Participate in the Keep Weare Beautiful program.