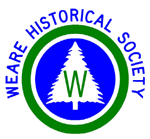 ---
The Weare Historical Society
P.O. Box 33
Weare NH 03281
Town Wide Cleanup Day 2023
The Town Wide Cleanup Day will take place on Saturday, April 22, 2023 !!
(rain day the following Saturday, April 29th)
A sign-up sheet and trash bags will be made available at the Weare Town Clerk's office and Town Library after April 10th.

Why not sign your group or family up to cover a specific street, road, or town area?
We ask volunteers to take ther bags to the transfer station (closes at 4:30pm on Saturdays) if you are able, so the town doesn't have to spend money to pick them up!
Thanks for volunteering to keep Weare beautiful!
We look forward to seeing you at the Clean Up Day !
Please be safe on the roads.