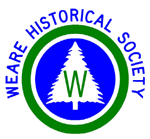 ---
The Weare Historical Society
P.O. Box 33
Weare NH 03281
Weare Historical Society 2020 Calendar of Events
Historical Society meetings are held at 7:00 P.M.
the third Wednesday of the month at the
Weare Public Library down stairs in the Emma Sawyer room.
All are welcome - no monthly meeting Dec. through February.
The Weare Historical Society welcomes everyone to our meetings and programs (always without charge). When an exact date and time do not appear below, please watch Weare's Channel 6, or check local newspapers and bulletin boards at town buildings and local businesses. All Weare Historical Society (WHS) meetings are in the Sawyer Room at Weare Public Library. If you cannot attend any of our open houses, please contact us through this Website and we'll arrange an appointment for you.
Events for 2020:
The Town-Wide Yard Sale is an annual event. A map showing the locations of all the yard sales in town will go on sale at 8:00 am on August 22, 2020. To get on the map you need to fill out a form and mail it to the Historical Society. Forms will also be available at locations around town shortly (TBD). Form deadline to be on the map is August 10, 2020!
The calendar of events for 2020 has not yet been finalized.
Please check back.